Helsinki: The next destination for sustainable investment from Asia
Why is Helsinki emerging as a top choice for sustainable investment from Asia? Explore the similarities between Finland and Singapore, Helsinki's smart city excellence, and the opportunities for collaboration in ESG investing and smart-city innovations.

5 min read
Interested in the Founders to Finland programme?
Our business advisor Xin Wang can help.
Helsinki Partners: Facilitating sustainable business opportunities
Strengthening collaboration for sustainable growth
Since 2017, Helsinki Partners has been collaborating with Singaporean organisations to foster the exchange of ideas and capital in the realm of smart and sustainable cities. Through these efforts, we have successfully introduced Helsinki's Mayor and Chief Economist to Singapore, organising visits and events that showcase the country's excellence in smart-city initiatives.
Similarities and opportunities between Finland and Singapore
Despite the geographical, climate, and cultural differences between Finland and Singapore, there are remarkable similarities that provide a solid foundation for sustainable business opportunities. Both countries are known for their clean, green, high-tech, safe, and organised environments. Furthermore, Finland's world-renowned education system and Singapore's advancements in enterprise-driven smart-building initiatives create synergies for collaboration.
Singapore's Smart Nation Initiative and sustainable buildings
Singapore has made significant strides in enterprise-driven smart-building initiatives since the launch of its Smart Nation initiative in 2017. A survey conducted by Condeco in early 2019 ranked Singapore at the forefront of this field, showcasing the city's sustainable and innovative approach to building design. Singapore is home to some of the world's most striking examples of sustainably-designed buildings.
Helsinki's smart city excellence and technological leadership
Helsinki consistently receives high rankings in global smart city indices, highlighting its smart city excellence. Finland, as a whole, has been recognised as the leader in the European Commission's annual Digital Economy and Society Index (DESI) for technology leadership. Furthermore, Helsinki has been using biochemistry techniques to develop sustainable food solutions, further enhancing its reputation as a technological frontrunner.
Strengthening ties: Helsinki Partners' visit to Singapore
At the end of 2022, representatives from Helsinki Partners took the Mayor of Helsinki Juhana Vartianen and the city's Chief Economist Mikko Kiesiläinen to Singapore for the World Cities Summit. During the visit, they engaged with key partners such as the Housing Development Board and Urban Redevelopment Authority, aiming to strengthen the ties between Singapore and Helsinki. The focus was on collaboration and business opportunities in the areas of smart-city innovations and sustainability.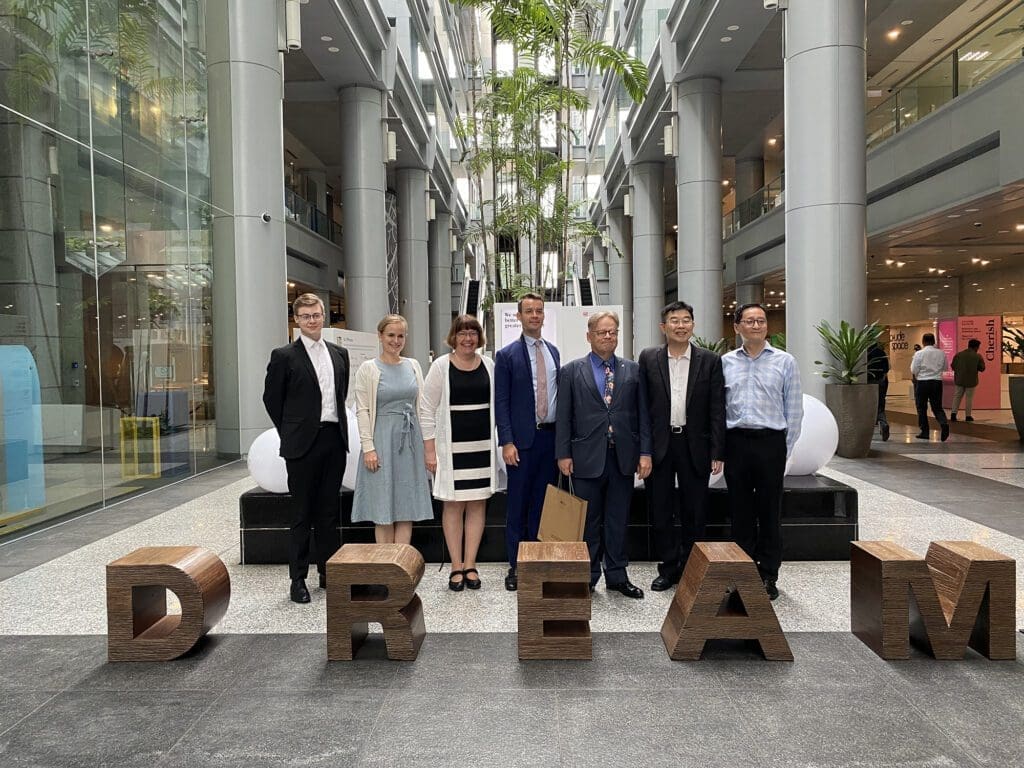 This trip was about sharing information on current and rising opportunities in Finland's capital, by introducing decision makers from Helsinki to key investors, companies and government agencies in Singapore, we aim to strengthen the ties between our two cities.

Johanna Huurre, Director of Strategic Initiatives, Helsinki Partners
Urbanization and sustainable investment in Helsinki
The delegation's visit to Singapore is part of Helsinki Partners' broader effort to highlight sustainable investment opportunities and partnerships in Finland's capital. Helsinki recognizes that urbanization drives prosperity and is committed to becoming a pioneer in sustainability.
The city aims to close its coal power plants by 2024 and achieve carbon neutrality by 2030. By joining forces with Singaporean companies, Helsinki aims to develop innovative solutions for sustainable and prosperous cities.
Helsinki seeks to join forces with Singaporean companies so we can together develop the next solutions for sustainable, happy, and prosperous cities.

Juhana Vartiainen, Mayor of Helsinki
Social sustainability and well-being in Finnish city planning
Finland ranked #1 in reaching sustainable development goals, places great emphasis on social sustainability and residents' well-being in city planning. Finnish values, such as trust and well-being, contribute to the country's top ranking in the World Happiness Report for six consecutive years. Helsinki, in particular, has been nominated as the happiest city in the world, while Finland consistently ranks high in stability, safety, and freedom.
Helsinki's startup ecosystem and business environment
Helsinki boasts one of the world's leading startup ecosystems, offering founders a supportive network, strong city backing, and abundant local financing options. The city has attracted foreign entrepreneurs with a range of incentives and benefits, including an exceptional work-life balance. The favourable business environment in Helsinki makes it an attractive destination for startups and investors alike.
90 Day Finn: Building Relationships Between Helsinki and Singapore
The 90 Day Finn programme invites international participants, including investors and entrepreneurs, to immerse themselves in Finland for 90 days. This initiative has generated valuable business ideas and connections, further solidifying the partnership between Helsinki and Singapore.
"We had an investor from Singapore in our inaugural 90 Day Finn group in 2021 and it generated a lot of business ideas and connections," Huurre told CNA938 in an interview.
"There was also a Singaporean participant in the 2022 programme, so we're hoping to continue building on the relationship between Helsinki and Singapore. We believe there's a lot more we can do together."
Helsinki Partners looks forward to building upon this relationship, recognizing the immense potential for collaboration between the two cities.
Founders to Finland: Program for Asian Entrepreneurs
Helsinki Partners has launched a new program called Founders to Finland, specifically targeting founders and investors from Asia. The programme provides fast-track services for relocating to Finland and assistance in expanding businesses into the rest of the European Union.
The programme builds upon the success of the 90 Day Finn program, which invites international investors, entrepreneurs, and professionals to experience life in Finland. Helsinki Partners aims to foster connections and explore opportunities in various fields.
Helsinki's Rise as a Hub for Sustainable Investment from Singapore
Helsinki is establishing itself as a prime destination for sustainable investment from Singapore. With its smart city excellence, technological leadership, and emphasis on sustainability and well-being, Helsinki offers numerous opportunities for collaboration in the areas of ESG investing and smart-city innovations.
Through initiatives like Founders to Finland and the successful 90 Day Finn programme, Helsinki Partners actively fosters relationships and expands business possibilities between Helsinki and Singapore. The future looks promising as both cities work together to develop sustainable, happy, and prosperous urban environments.
Apply to become one of the Founders to Finland!
Establish your business in Helsinki to access the EU market, join an innovative tech ecosystem in a value-driven society, and enjoy a famously excellent work-life balance. Experience business and life in the capital of the world's happiest country.
Related articles
Contact Helsinki Partners
If you are interested in learning more about Helsinki and its possibilities – please contact us via the form here. We'll make sure to get back to you within a few working days.