Full list of events during Helsinki Business Superweek
29 May – 2 June
Helsinki Business Superweek is the perfect opportunity to immerse yourself in the circular economy movement and learn from some of the most innovative minds in business.

6 min read
Want to invest in Helsinki?
Our business advisor Tian Yu can help.
Events about the circular economy, sustainability, and investing
Helsinki is hosting two major events related to sustainability and impact investments during the same week at the end of May: the World Circular Economy Forum (WCEF) and Arctic15.
The World Circular Economy Forum 2023 will gather together forward-looking thinkers and doers and present the game-changers in the circular economy.
Arctic15 is the world's first and only values-led matchmaking Startup Conference, which is unfolding in the city for the 17th time.
During the week from 29 May to 2 June, various side events branch off of WCEF and Arctic15, gathering professionals, investors and startups who yearn to create a sustainable future through innovation and impactful business
Which of these events will you be meeting them at?
---
The World Circular Economy Forum (WCEF)
Date: 30 May – 2 June
Location: Helsinki Expo and Convention Centre
Organisers: Nordic Innovation and the Finnish Innovation Fund Sitra, with international partners
Join 2000+ business leaders in Helsinki for World Circular Economy Forum. WCEF is a landmark event of the year that brings together business leaders, policymakers and experts to present the world's best circular economy solutions. The event is free of charge and open to all online. Live participation is by invitation only. Get familiar with the free WCEF side events.
---
Arctic15
Date: 1 – 2 June
Location: Cable Factory
Organisers: Arctic15, Business Helsinki, Elo, Aalto University, deel, Scandic, and Helsinki Partners
Arctic15 is the most effective matchmaking startup event in Northern Europe. The focus is on making deals and quality networking. This 2-day event brings together a focused international crowd of startups, investors, corporates, media and influencers.
Its 15 tracks are focused on various industries, technologies, and topics ranging from Digital Health and AI to Social Impact and Scaling. Industry players can use the time efficiently and gather under one roof. The core of it all is one-on-one meetings in Deal Room.
---
Investing in Circularity and Sustainability
Date: Monday, 29 May at 17.00–20.00
Location: Finnish Museum of Technology
Organisers: Helsinki Partners, MiXi Center, City of Helsinki, and Helsinki–Uusimaa Circular Valley
In today's world, circular business models are crucial for developing future-proof solutions and creating a sustainable economy. Adopting circular economy principles not only benefits society and the environment but can also unlock an estimated €1.8 trillion in economic growth by 2030.
Finland has been leading the way in sustainable business practices, being the first country to create a national roadmap towards a circular economy. The City of Helsinki has followed suit, and we're excited to share our learnings and discuss sustainable business opportunities in Helsinki and beyond.
Join us at the Helsinki Museum of Technology to connect with like-minded individuals who are driving the transition towards a sustainable future, including investors, startups, ecosystem leaders, and industry experts.
---
Arctic15 LP Summit Helsinki
Date: Wednesday 31 May
Location: Finnish Museum of Technology
Organisers: Helsinki Partners
Arctic15 LP Summit gathers the most influential minds from around the world to discuss the latest trends, opportunities and challenges for the Venture Capital industry. It's the best place to learn about the latest developments in hot industry topics, connect with peers, and make new contacts that can help you grow your business.
Arctic15 LP Summit's goal is to provide highly curated, unparalleled networking opportunities, in-depth insights from industry leaders, and experiences designed to ensure attendees get the most out of their experience and build new relationships for future collaborations. The event hosts a mix of high-level content, including keynote speeches, and panel discussions
---
How to invest in Health & Life Sciences – Successful exits in Life Sciences & Biopharma
Date: Tuesday 30 May
Location: Team Finland House, Porkkalankatu 1, Helsinki
Organisers: Health Capital Helsinki
How to Invest in Health & Life Sciences event brings together entrepreneurs, investors and industry specialists to share their stories, insights, and expertise on investing in the health and life sciences industry.
---
Finnish sauna and salmon soup
Date: Wednesday 31 May
Organisers: Helsinki Partners
Join us to enjoy the cornerstones of Finnish culture. This event is invitation-only.
---
MyData 2023 Conference
Date: 31 May – 1 June
Organisers: Helsinki Partners
MyData conference is the leading international conference on human-centric personal data management. It is organised by MyData Events and Services and supported by MyData Global.
This most impactful personal data event will be held for the 7th time in Helsinki, Finland on May 31 – June 1 with two days of live sessions and events.
---
Cities and Circular Economy – A WCEF 2023 Accelerator Session
Date: Thursday 1 June, 9.30–17.00
Location: Helsinki City Hall
Organisers: Embassy of Finland in Singapore, with the support of Business Finland APAC, Helsinki Partners and Nordic Innovation House Singapore.
Introducing Finnish support, practical solutions and new innovations in the circular economy in the areas of construction, food, plastics and textiles.
This session is targeted to an audience who wishes to learn more about the already existing circular economy solutions in the area of construction, food, plastics and textiles and what kind of business opportunities the circular economy may bring. The government and city support in different circular economy sectors is opened up too.
---
Datacentre Forum Helsinki
Date: Thursday 1 June, 8.00–18.00
Location: Crowne Plaza
Organisers: Datacenter Forum
The biggest community of data centre and IT industry professionals in the Nordics – invites you to join them at their eighth-annual Datacenter Forum Helsinki.
The event will explore pressing issues such as the Nordic energy trilemma, challenges faced by CIOs & CTOs, sustainability solutions, regulatory compliance, and building digital infrastructure in the Arctic Circle and Baltic Sea.
With over 300 experts and industry, representatives expected to attend, this is the perfect chance to make new connections and expand your knowledge and network.
Registration is free-of-charge, and they look forward to hosting you.
---
Walking tour to Smart Kalasatama
Date: Thursday 1 June, 17.00–20.00
Location: Kalasatama–Teurastamo
Organisers: Helsinki–Uusimaa Circular Valley
Welcome to a guided walking tour through the Kalasatama–Teurastamo neighbourhood close to downtown Helsinki. It is the hip part of the town, known also for its smart city solutions.
The walking tour will guide you to a shopping mall for some last-minute shopping for upcycled and recycled souvenirs and even food waste!
The last station on the map is at a popular restaurant area called Teurastamo where you can learn more about Helsinki city projects on the sharing economy. Teurastamo is a space full of delicious restaurants, bars and awesome small producers. Originally built in the 1930s as a slaughterhouse area, Teurastamo has been reborn as a food and city culture hub open to everyone. It is the perfect place to end a summer evening in Helsinki and learn more about Forum Virium's projects on the sharing economy and food.
---
Web3 Week Helsinki
Date: 26 May – 4 June
Location: Kalasatama–Teurastamo
Organisers: Web3 Builders and Convergent Reality
First ever web3 week in Nordics aims to accelerate mass awareness and understanding of emerging technologies.
One full week of web3-related content & experience: The brightest minds in Blockchain and Web3, both local and international; Workshop, meetup, and immersive formats; Networking; And 2 major events: (CR)eaLity Hackathon and Aurora Conference.
Finland is famous for its strong technological infrastructure, innovation-friendly environment, skilled talent pool, government support, and strong crypto and blockchain community with leading-edge companies with roots in Finland such as Aave, Mysterium Network, Superblocks, Membrane Finance, Phaver, Gnosis Safe, Equilibrium, Kleoverse.
---
That is just a small taste of the many exciting happenings that await you in Helsinki during Business Superweek. We will be updating the list of events as things come up so keep an eye out for updates.
By embracing these principles and supporting businesses that prioritize sustainability, we can all play a role in building a more sustainable and prosperous future for generations to come. Let us work together towards a future where we can enjoy the benefits of a thriving economy while also preserving our natural resources and protecting the environment.
Looking to network and connect with key players in Helsinki's vibrant ecosystem?
Helsinki Partners is here to help! As your matchmaker, we can introduce you to anyone and everyone you need to meet during your time in the city. Simply send us a message and we'll be in touch to help you make the most of your visit to Helsinki.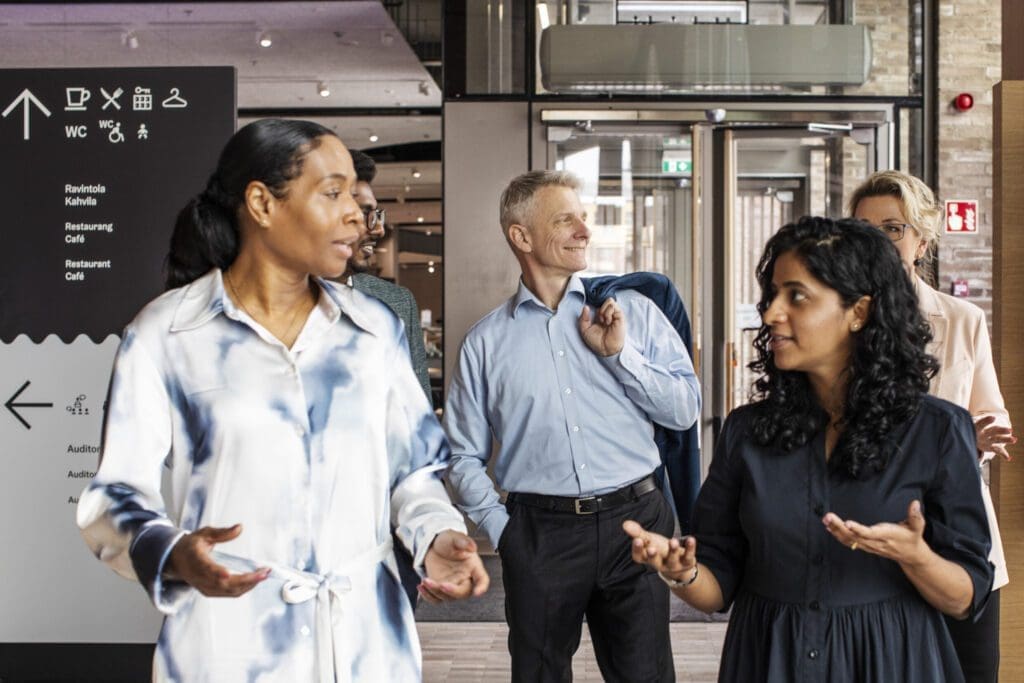 Related articles
Contact Helsinki Partners
If you are interested in learning more about Helsinki and its possibilities – please contact us via the form here. We'll make sure to get back to you within a few working days.