Smart Mobility in Helsinki
Helsinki boasts a favourable environment for creating new smart mobility solutions, with supportive government commitments and favourable legislation for experiments and market entry. Benefit fro
Accelerate Innovation in Smart Mobility
Helsinki boasts a favourable environment for creating new smart mobility solutions, with supportive government commitments and favourable legislation for experiments and market entry. Benefit from urban testbeds and the world's first open-mobility-as-a-service ecosystem in Helsinki.
Why look at smart mobility in Helsinki?
The creation of new smart mobility solutions has been made easy in Helsinki and Finland. The government and the capital region cities are committed to further enabling future intelligent mobility. The legislation is favourable for new experiments and the recent heavy deregulation makes it easier for new types of transportation services to enter the market.
Helsinki also offers several urban testbeds to pilot and scale your solutions in a real-life environment. And, Helsinki is the home of the first open-mobility-as-a-service ecosystem in the world.
We at Helsinki Partners, are focused on helping foreign companies find possibilities within autonomous vehicles, car sharing and integrated mobility (MaaS) in Helsinki. However, should your interest be anything within the sphere of smart mobility solutions, our team of business experts are dedicated to helping you find your mix. From top R&D possibilities, product development opportunities, unique piloting platforms, global expansion, university and research collaboration, funding, talent and partners – we'll help you tap into the Helsinki region smart mobility ecosystem, free of charge.
We came here because we felt Finland and Helsinki are great testbeds for us. There is a lot of excellent technical expertise here, especially in agile software development, design thinking and UX in general.
Antti Ijäs
Director of Technology
© Valentino Valkaj
Autonomous driving & connected vehicles
From government support to roads & infra, through to cloud & services
Supportive government strategy and open data
Helsinki has open access to data for everyone in the metropolitan area.
Legislation allows autonomous vehicles on all public roads in Finland
Unique to Finland – having a driver in the automated vehicle is not compulsory.
Research & academic expertise
Helsinki has top notch universities and research institutes. The basis for all development projects is the tight public-private-people partnership.
World renowned background in ICT, telecoms & systems integration
The region has a talent pool of 116 000 skilled technical ICT and 25 000 cleantech professionals. Plus electric vehicles technology alone has 4 400 specialists in Finland.
Ecosystem has all layers needed for automated vehicle
Physical infrastructure
Hardware
Digital infrastructure (5G)
Enabling software & data services
User apps & services
Finland is leading the autonomous vehicle revolution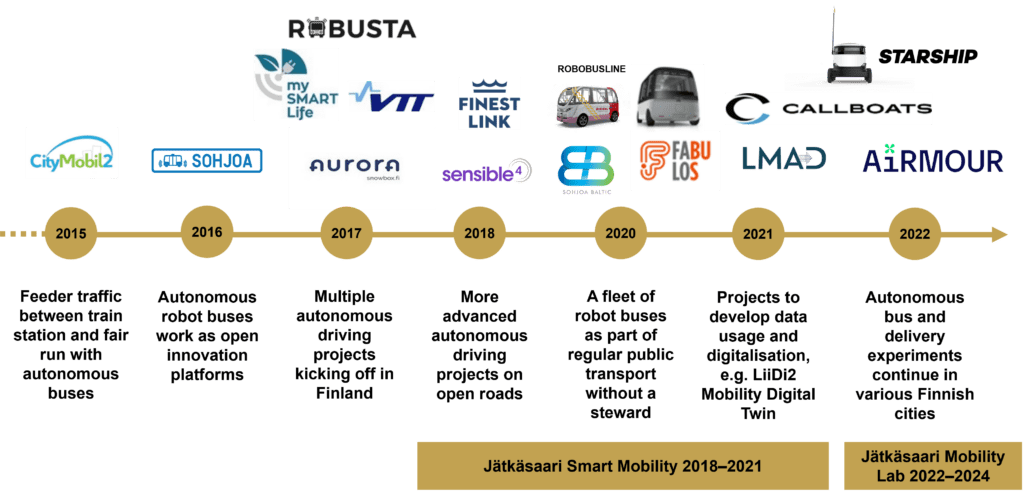 Helsinki is a TOP3 city
most for urban mobility
© Jussi Hellsten
Integrated mobility & maas
Helsinki is a global pioneer in the MaaS concept
Helsinki – first in MaaS
Helsinki is the first city in the world to offer a truly integrated personal mobility-as-a-service solution.
Customer focus
The customer pays one trip's fee or a monthly subscription and is able to access different modes of transport (public and private) with differing levels of service options depending on needs.
Smart services
All of this is seamlessly enabled via smart phone and other digital devices.
Global piloting platform
The Helsinki region has an open invitation to Finnish and international companies to participate in pilot schemes and to offer their solutions to the Helsinki region market.
All major transportation companies & operators have opened their data & services. For example Helsinki Region Transport (HSL):
Top level support from the cities in the Helsinki region to MaaS development:
Helsinki #1 city for mobility-as-a-service implementation
© Jussi Hellsten
Car sharing – an emerging opportunity in Helsinki
Average car journeys in the Helsinki Region are 11.7 km
And the average user makes 1.3 car journeys.
Strong growth potential
Currently there are 5 car sharing operators in the Helsinki region but room for more.
3000 parking spots reserved for car sharing
In the City of Helsinki. Parking permits are not needed in the cities of Espoo & Vantaa.
Parking discount for low emission vehicles
Fully electric cars and electric mopeds are directly classified as low emission cars.
Changing views to car ownership
An increasing amount of people would be willing to give up their car if other mobility options would be available.
The infrastructure in Helsinki is ideal for smart mobility initiatives and I would say the attitude in Finland is fantastic. Bike use is already high, the city champions smart mobility solutions, and there is a tremendous amount of acceptance and positivity towards the new vehicle.
Erik Bergqvist
Market Development & Partnerships
© Valentino Valkaj
Batteries &
Electrification
Sustainable batteries and electric vehicles with circular economy principles
Electric heavy-duty vehicles
Electrification and digitalization of transportation – especially heavy-duty vehicles – is one of the foci of the Finnish battery ecosystem.
Battery recycling expertise
Finland is a pioneering country in managing the whole battery value chain from minerals to recycling. Circular economy along with sustainable and reliable business practices are central to the Finnish battery ecosystem.
R&D with partners
Develop electric vehicle charging technologies and stations, vehicle batteries, and battery recycling technologies in active public-private partnerships. Piloting and testing of electric and electrified vehicles and machines is made easy in Helsinki.
Sustainability with circular economy
A Circular & Sharing Economy roadmap helps the City of Helsinki transition to carbon neutrality. It guides e.g. urban planning and emission reduction in transportation.
© Jussi Hellsten
When it comes to piloting in smart mobility, Helsinki is the place to be.
The region is famous for bringing together the whole ecosystem for smart mobility development projects, from public and private sectors, as well as from academia and citizens. It's a great place to pilot and test new mobility innovations that lead to globally scalable business solutions. Helsinki also takes an active and leading role for global and international smart mobility and smart city projects.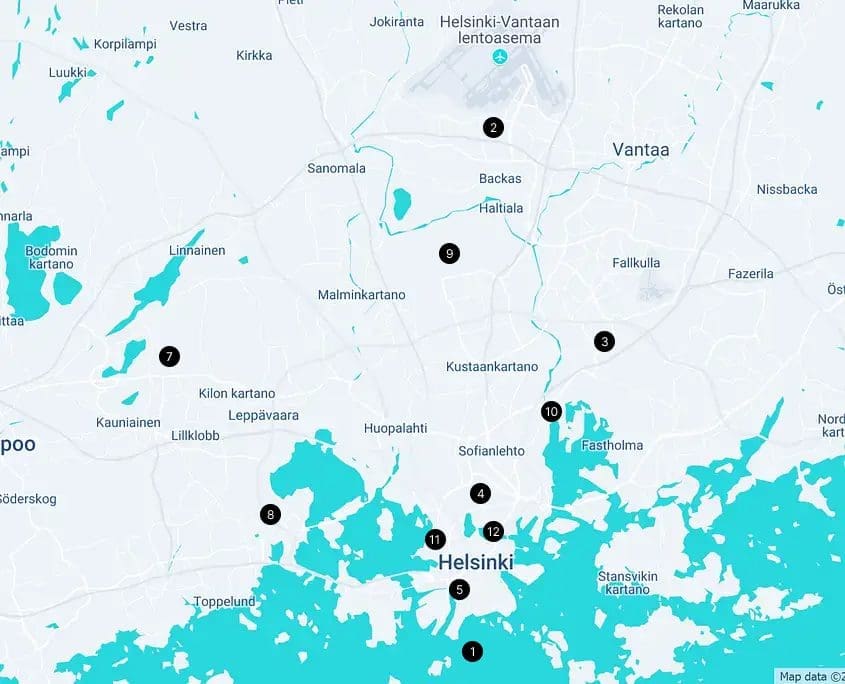 1. FinEst Twins will build the first global centre of excellence focusing on developing solutions for cross-border smart cities. These are to be tested and implemented first in Tallinn and Helsinki, then scaled globally. It is a joint project with Tallinn University of Technology (TalTech), Aalto University, Forum Virum Helsinki and the Estonian Ministry of Economic Affairs and Communications.
2. Traffic Lab at Aviapolis is a market-test area, offering potentials for creating new businesses. Development of solutions is promoted by partnering between more than 30 public and private players, as well as by encouraging national and international players to test concepts. The objective is to find new sustainable solutions for traffic, commuting and logistics, that are expandable in other areas in Finland, as well as internationally.
3. RoboBusLine. A scheduled robobus service in regular traffic, on roads in the Kivikko district of Helsinki. The RobobusLine project prepares for commercially viable, automated bus operation in Helsinki.
4. The FABULOS (Future Automated Bus Urban Level Operation System) project focuses on how cities can use self-driving minibuses in a systematic way. The goal is to procure the operations of an automated bus line. In Helsinki, the autonomous bus line pilot was launched in the Pasila and Kalasatama area in 2020. Companies can receive up to 5.5 million euros to support their R&D work in developing systems capable of operating fleets of automated minibuses.
5. Sohjoa Baltic. The project works towards increasing the attractiveness of public transport by improving offered services and introducing automated driverless electric minibuses, especially for the first and last mile of the journey. Sohjoa Baltic aims to bring autonomous, small buses to drive demo routes in six Baltic Sea Region cities in the coming years.
6. Jätkäsaari Mobility Lab supports innovation and business development. It aims at generating better mobility solutions for the region and beyond, while building a strong network for collaboration and co-creation. The focus of supported pilots and solutions are on improved traffic flow, sustainable modal choices, mitigation of traffic violations and accidents, and improved air quality.
7. LuxTurrim5G is a Nokia Bell Labs driven ecosystem project developing and demonstrating a fast 5G network, based on smart poles with integrated antennas, base stations, sensors, screens and other devices. This joint project opens new digital services and business opportunities for a real smart city.
8. bIoTope lays the foundation for creating open innovation ecosystems. It does this by providing a platform that enables companies to easily create new IoT systems and to rapidly harness available information using advanced Systems-of-Systems (SoS) capabilities for Connected Smart Objects – with minimal investment. A dozen smart city pilots will be deployed in three major European cities, Brussels, Lyon and Helsinki.
9. 6Aika – Six City Strategy. The six largest cities in Finland share the same challenges of urbanisation. In the Six City Strategy, Helsinki, Espoo, Vantaa, Tampere, Turku and Oulu tackle those challenges together to develop better services. In the Six City Strategy projects, companies test products and services in urban environments, the advantage of which, is that they get feedback from real users. which directly helps develop even better services.
10. mySMARTLife is a project funded under the European Union's Horizon 2020 research and innovation programme. Under the coordination of CARTIF Technology Centre, 27 partners from 6 countries are collaborating to make sustainable cities, with smart people and a smart economy, a reality. Helsinki´s demonstration area Vanhankaupunginlahti (old Town Bay) is representing the history, present and future of smart energy systems in Finland.
11. Bio100. The Helsinki Metropolitan Area's buses, heavy equipment and trucks have transitioned to using mostly waste and residue-based biofuels. This reduces carbon dioxide and particulate emissions.
12. HAQT (Helsinki Metropolitan Air Quality Testbed). Finnish expertise in air quality and atmospheric research combine with cutting-edge technological know-how in a two-year project that aims to tackle the global problem of bad air quality. HAQT consists of a dense network of air quality monitoring sensors that covers the entire Helsinki Metropolitan Area.
Helsinki was an excellent location for piloting our Smart Pedestrian Crosswalk because Finland and Estonia are very closely connected, and because we knew that doing business in Finland would not be an obstacle.
Hans Leis
Sales Manager
© Vesa Laitinen
Helsinki, as one of the first cities in the world, aims to make it unnecessary for any city resident to own a private car by 2025.
Take a sneak peek of the Helsinki ecosystem:
To get to know the ecosystem and the opportunities on a national level in Finland, check out futuremobilityfinland.fi
MaaS operators
Shared mobility
Autonomous driving
Connected vehicles, software & consulting
Electrification
Other smart mobility related companies (weather, sensors, parking etc)
Industry & public organizations
Interested? We're here to help!
You can always send us a message via the contact form below. We'll make sure to get back to you as soon as possible. Listed here are the key contact persons while we are merging.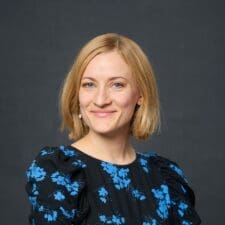 Sonja Malin
Senior Advisor, Strategic Initiatives
Contact Helsinki Partners
If you are interested in learning more about Helsinki and its possibilities – please contact us via the form here. We'll make sure to get back to you within a few working days.