Smart Energy in Helsinki
Helsinki is home to a vibrant smart energy ecosystem leveraging cutting-edge technology and collaborating with government agencies and academic institutions to create a more sustainable energy fu
Smart Energy Opportunities in Helsinki
Helsinki is home to a vibrant smart energy ecosystem leveraging cutting-edge technology and collaborating with government agencies and academic institutions to create a more sustainable energy future.
Yiping Feng and Ling Ouyang
Smart Energy opportunities in Helsinki
Helsinki, the capital of Finland, offers lucrative possibilities for companies to develop and sell smart energy solutions in a dynamic and open ecosystem. The most notable areas are smart grids, virtual power plants, energy-efficient buildings, and energy storage.
Energy efficiency and the goal to reach carbon neutrality by 2035 have guided Helsinki and Finland to adopt and develop progressive energy solutions such as smart meters, district heating, and distributed energy production relying heavily on renewables. In Helsinki, innovation activities draw on the world-renowned technical experience in 5G, AI, and IoT. Moreover, RDI and sales benefit from the liberal energy legislation, funding programs, public testbeds, and the progressive strategy on clean energy and efficient ICT infrastructure.
Helsinki Partners is here for you. Whether you are looking to expand your business or are searching for investment, business or R&D opportunities, our dedicated team is ready to help you deep dive into the Greater Helsinki energy ecosystem. Free of charge.
Smart energy opportunities
Helsinki is at the forefront of smart energy solutions, with a range of opportunities for sustainable and efficient energy use. The city has set a goal to be carbon neutral by 2035, and is implementing various initiatives to achieve this target.
Smart grids offer opportunities for energy companies to develop distributed energy generation, cyber security, 5G, and network management solutions.
Finland has one of the world's most advanced smart grids, with smart meters in every household and a focus on developing smart grid 2.0, supported by the national demand response programme and reliable transmission lines.
Smart meters – installed in every household in the country – track consumption and network operation in real time, generating data not only for the energy company but clients and other actors as well.
Moreover, the national demand response program ensures the smooth operation of the Finnish energy system, and consequently, the grid reliability at transmission lines is 99,9998%.
Virtual power plants (VPPs) are microgrids that combine the electricity generated by power units, such as solar panels, and sell it to the energy reserve market.
VPPs create decentralized energy systems and offer opportunities for businesses to distribute generated electricity to the grid or develop new energy production methods for individual buildings.
Finnish citizens are energy-conscious due to the high heating and lighting demands in the cold climate. Therefore, there is a growing interest in improving the energy efficiency of buildings, and Finnish cities are exploring smart and low-carbon solutions to achieve this.
There is great interest in improving the energy efficiency of buildings, especially heating, cooling, and ventilation, and the overall popularity of renewable energy and the installation of solar panels on both public and private buildings is growing.
Finnish cities and municipalities are constantly exploring new possibilities to improve the energy efficiency of residential and service buildings with smart and low-carbon solutions.
Often, cities are interested in developing and co-designing solutions with companies, building users, and energy experts.
Climate targets are driving the electrification of societies and industries. This progress has created a demand for renewable energy and energy storages. Guided by the National Battery Strategy, Finland focuses on the circular economy of batteries and is prepared to direct investments in the battery and electrification ecosystems.
Finland's strengths in energy storage development are
natural resources (nickel, cobalt, lithium)
world-class expertise in chemistry, processing, engineering, energy, and recycling
an attractive business environment with partnering opportunities in the largest energy cluster in Northern Europe.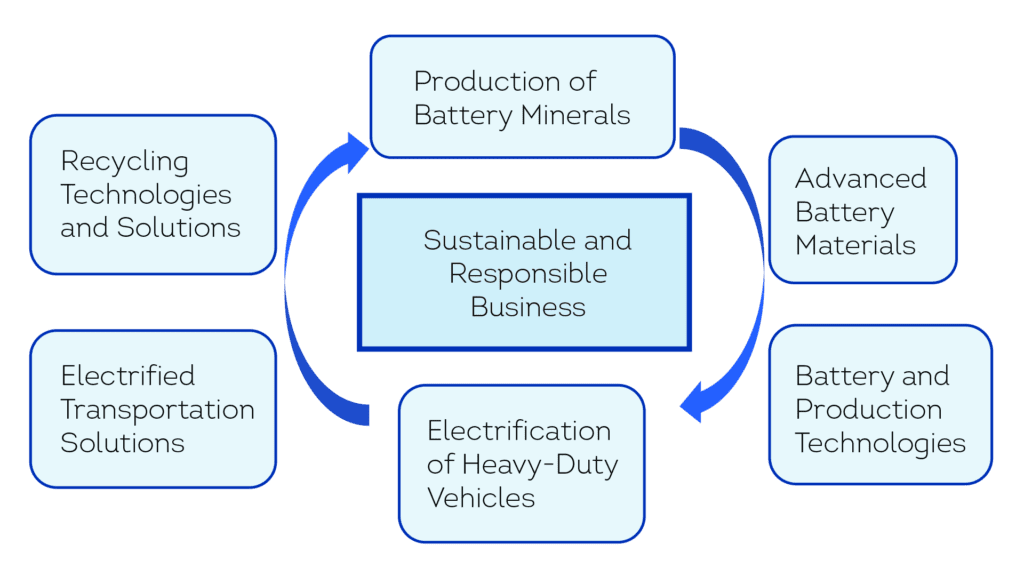 The business ecosystem in Greater Helsinki is open, welcoming, and connected. At the moment, there is room for new businesses, particularly in waste textile collection and handling.
Emerging opportunities
Green hydrogen
In Finland, hydrogen is used for energy storage, transportation, and synthetic fuels.
Unlike some countries, Finland produces hydrogen using renewable energy, benefiting from ample water reservoirs, a robust transmission grid, a stable regulation framework, and industrial expertise.
Finnish efforts are focused on developing new hydrogen solutions to address cost-effective decarbonization, low-emission steel production, and reduced industry logistics costs.
Wind power
Renewable energy is replacing coal and other fossil fuels, in turn creating a strong demand and profitable market for wind energy solutions.
The wind power capacity in Finland holds great expansion potential.
Besides increasing the availability of clean energy, additional construction of wind power could provide balancing power to the national grid and protect the grid from major fluctuations.
See the wind power map by the Finnish Wind Power Association for ongoing and planned projects.
The energy system in Finland
Energy production is Finland is based on the target to reach carbon neutrality by 2035. In 2020, already 51% of electricity generated in Finland came from renewable resources, and CO2 neutral electricity amounted to 85%. Domestically, Finland is able to generate 55% of the used electricity. Hydropower is imported from the Nordic market to complement the national supply.
The Finnish production palette has been designed diverse and balanced to ensure electricity supply security and flexibility. Both the production and the use of energy have to be flexible because an increasing share of electricity is produced by weather-dependent solar and wind power. Utilizing the data collected by smart meters, an intelligent and flexible energy system adjusts production and consumption as needed, and production can be continuously developed to improve efficiency.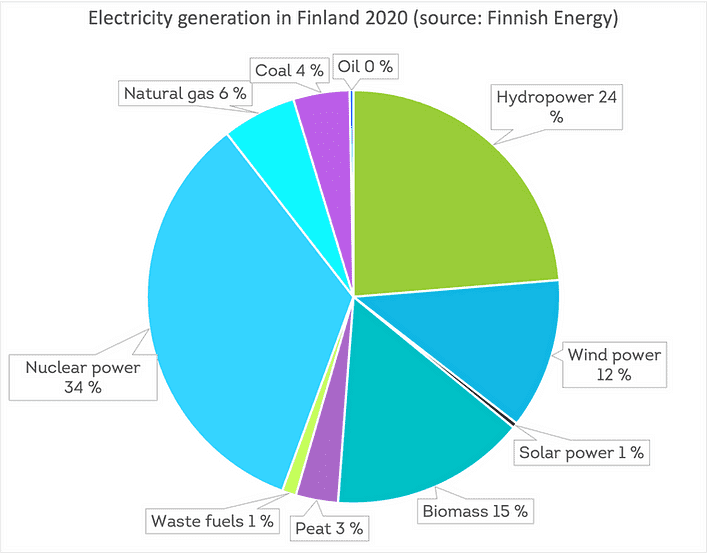 Test your energy solutions in Helsinki
In the Helsinki metropolitan area, companies and researchers can leverage public testbeds in their smart city-related R&D&I activities: Smart Otaniemi, Kalasatama, and Jätkäsaari. For their pilots, companies partner up with other organizations, citizens, and end users to produce valid and accurate data of their product. Find all open calls via Testbed.Helsinki or reach out our business advisors for assistance!
Take also advantage of Helsinki Region Infoshare, an open data service maintained by the Helsinki Region, and digital tools such as this 3D Energy and Climate Atlas of Helsinki.
Moreover, in Finland, the national energy ecosystem collaborates closely. The largest energy cluster in Europe extends from Helsinki to the cities of Lahti, Vaasa, and Kotka, and the Northern Savo region.
1. Otaniemi
Smart Otaniemi is a living lab developing smart energy systems. The university campus combines pilots for smart energy, buildings, mobility, and energy storage. Visit smartotaniemi.fi.
2. Jätkänsaari
Jätkäsaari Mobility Lab enables tests and pilots in an urban environment and operation with a strong network of partners. Jätkäsaari is a new and growing housing district near central Helsinki. Visit mobilitylab.hel.fi.
3. Kalasatama
Smart Kalasatama is a vivid Smart City experimental innovation platform. The area is developed flexibly through pilot projects of smart and clean urban infrastructure and services. Visit fiksukalasatama.fi.
4. Pasila
Pasila is a transportation hub and thereby an excellent future location for new jobs and residents. Moreover, Pasila will be a key district for further office construction in the upcoming years.
5. Bioruukki
Bioruukki is a unique piloting and scaling place for energy, bio and circular economy. Visit Bioruukki pilot centre.
The Smart Energy ecosystem in Helsinki
The energy ecosystem in Helsinki is open and connected both within the region and nationally, and the value chains are mature. Below, we've listed some interesting projects.
Infrastructure
Electricity distribution
Research & Development & Innovation
Government and city, regulators
Technology companies
Associations
Service providers
Contact Helsinki Partners
If you are interested in learning more about Helsinki and its possibilities – please contact us via the form here. We'll make sure to get back to you within a few working days.