Smart Building
Discover the benefits of Helsinki's ambitious smart building ecosystem. Find real-life test beds, collaborate with public and private partners, and access state-of-the-art products and solutions.
A leading the way in smart buildings
Tap into the ambitious and multidisciplinary smart building ecosystem, where smart city development lays the foundation for innovative building solutions and technologies.
Smart Building solutions for your needs
Did you know that Helsinki was ranked #8 in the IMD Smart City Index for 2023? Smart City development creates the basis for smart building solutions and technologies. You and your business can now benefit from the expertise of the ambitious and multidisciplinary smart building ecosystem in Helsinki.
The City of Helsinki offers you access to real-life test beds and opens opportunities to collaborate with public and private partners. You can also find state-of-the-art products and solutions by several companies, ranging from design to the life cycle management of buildings.
Helsinki Partners will help you find your way in the city. Our business advisors guide you to business opportunities and match you to the right partners in business and R&D, and give advice on all practical matters. Contact us today – all our services are free of charge.
Skilled labour tipped the scale in Finland's favour. It has one of the best education systems in the world and lots of people with college degrees. After choosing Finland, Helsinki was the ideal city for us because it's so well-connected and has a large talent pool.
Ramesh Kasetty
CEO and Co-founder
Duranc
5 steps to implementing smart building solutions
1. Designing a better future
Smart buildings are designed to be sustainable and have a successful life cycle management. One of the key factors in achieving this is the use of energy-efficient solutions, which can significantly reduce life cycle costs.
Builders carefully select construction materials, including reused and circulated materials and install smart sensor networks for ventilation and lighting control to achieve this goal. Collaborative design methods that involve future users in the planning process are also becoming increasingly popular.
In Helsinki, citizen engagement is given special attention, as it leads to the development of more sustainable, life-simplifying, and time-saving solutions in services, transport, and parking.
Builders can benefit from this approach as well, as holistic and sustainable design environments are both cost-effective and in high demand.
2. New innovative materials
Innovative materials are essential in the construction of smart buildings. Environmentally friendly, recyclable, and reusable materials have gained popularity in Finland, as industries realize their benefits for the environment, brand reputation, and the economy.
Finland has developed several innovative solutions for the construction industry, including a concrete-like material made from industry-side streams and a natural, ecological thermal insulation product.
These solutions align with the Finnish Government's and the City of Helsinki's support for circular economy principles, which offer numerous opportunities for the design and reuse of both old and new materials in Helsinki
3. Quality and efficiency with digital solutions
Digital solutions are transforming construction sites, and streamlining the many phases, processes, and services involved in building smart buildings. Technologies such as VR, AR, IoT, robotics, and simulations are being utilized to improve efficiency and reduce costs.
Examples of these digital tools include space-sharing platforms, AI-driven property valuation and technical risk assessment tools, real-time 3D models for design and construction, and solutions for scheduling tower cranes and controlling material flow at construction sites.
These solutions rely on extensive open data and analytics available in Helsinki, such as the Jätkäsaari Smart Junction project, which generates open data for innovators to use. Finland was also the first country to distribute smart meters to all residential customers
I came to look for technologies and design solutions for smart buildings [from Finland]. And I found what I was looking for.
Kenneth Powers
Founder and President
© Vesa Laitinen
4. Improving indoor air quality for a healthy environment
Indoor air quality (IAQ) is crucial for enhancing people's health and well-being, especially since we spend almost 90% of our time indoors in places such as homes, workplaces, offices, schools, and shopping centres.
Finnish innovations, such as HVAC systems, sensors, IAQ monitoring systems, and different filter technologies, have been developed to achieve good and healthy indoor air.
With the COVID-19 pandemic, the need for filtration and purification technologies for bacteria and viruses became critical. Hospitals used these technologies in their daily operations, but now they are needed in other environments as well.
Helsinki innovations, such as portable decontamination units, can ensure a bacteria- and virus-free environment
5. Building sustainably
With the largest energy cluster in northern Europe, Finland is a leader in smart building solutions for energy efficiency, including heating, cooling, and ventilation.
The country has also achieved a significant milestone by distributing smart meters to all residential customers, enabling better tracking and management of energy usage.
In addition to energy efficiency, other sustainable practices are gaining momentum in the Finnish smart building ecosystem. These include demand-controlled ventilation, smart lighting that adjusts to daylight availability, and the use of renewable energy sources and solar panels.
Sustainability in smart building is not just about environmental benefits but also social and financial ones. As a result, a growing number of buildings aim to achieve zero waste, carbon neutrality, and circular economy principles. Helsinki is actively supporting the development and testing of new innovative tools to promote sustainable building practices.
Helsinki offers the City as a platform for companies who wish to develop and pilot smart building solutions in real-life settings. Moreover, companies have access to an exceptional pool of open data, which has been accumulated in different areas of the Finnish society. Publishing data sources for all interested parties to use is a unique approach that Helsinki has chosen to take to support innovation. For an example of data visualization and usage, watch this video about Helsinki Energy and Climate Atlas.
Furthermore, the whole ecosystem from citizens to cities and from companies to government eagerly collaborate to develop and pilot smart building solutions. Below, we've listed six examples of innovation platforms, all with their own focus areas, in Greater Helsinki. Visit also the Testbed Helsinki for Built Environment for information about new piloting platforms and collaboration with the City of Helsinki.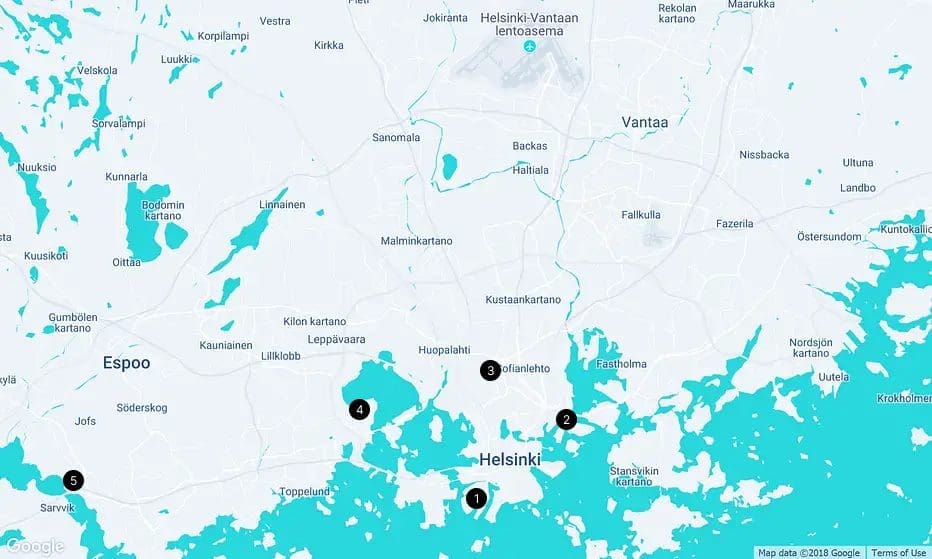 1. Jätkäsaari
Jätkäsaari Mobility Lab enables tests and pilots in an urban environment and operation with a strong network of partners. Jätkäsaari is a new and growing housing district near central Helsinki.
2. Kalasatama
Smart Kalasatama is a vivid Smart City experimental innovation platform. The area is developed flexibly through pilot projects of smart and clean urban infrastructure and services.
3. Pasila
Pasila is a transportation hub and thereby an excellent future location for new jobs and residents. Moreover, Pasila will be a key district for further office construction in the upcoming years.
4. Otaniemi
Smart Otaniemi is a living lab developing smart energy systems. The university campus combines pilots for smart energy, buildings, mobility, and energy storage.
5. Bioruukki
Bioruukki is a unique piloting and scaling place for energy, bio and circular economy.
vttresearch.com/en/ourservices/vtt-bioruukki-pilot-centre
Domestic & international partners
Indoor Air Quality Ecosystem is an active cooperation platform for indoor air companies. It focuses on the health impacts of clean indoor air and the high expertise of Finnish companies.
Visit iaqe.fi/ for more information.
KIRAHub is one of the key players in promoting the sustainable digitalisation of the built environment sector in Finland. This non-profit association is the successor of KIRA-digi, a project aimed at boosting digital transformation within the real estate and construction sector in Finland.
Visit kirahub.org for more information and listen to this podcast episode where we discuss agile piloting with the organization.
IPI is an innovation catalyst that creates opportunities for enterprises to grow beyond boundaries.
The partnership of HBH and IPI facilitates the creation of business opportunities between Finnish and Singaporean companies.
Visit ipi-singapore.org for more information.
Industry & public organizations
Contact Helsinki Partners
If you are interested in learning more about Helsinki and its possibilities – please contact us via the form here. We'll make sure to get back to you within a few working days.