Helsinki Partners' events at Slush 2023
29 November – 1 December
Helsinki's buzzing with Slush 2023. Dive in with Helsinki Partners' events. Join a convergence of international startups, investors, and more – whether you've got a Slush ticket or not, we've got something for you.
Want to invest in Helsinki?
Our business advisor Tian Yu can help.
Slush: Pioneering the global startup ecosystem
As winter unveils its slushy tapestry, Helsinki warms up with Slush, the global startup event of the year. This dynamic meeting of startups, innovators, and investors illuminates the city, promising inspiration, networking, and innovation.
This year, alongside the core Slush program, Helsinki Partners offers its own line-up of events designed to foster international collaboration and boost the city's position in the global startup ecosystem.
All Helsinki Partners events are accessible with or without a Slush ticket.
Slush is a non-profit and the world's largest gathering of VCs – delivering actionable company-building advice and bringing together the "who's who" in startups.
Mark your calendars: Slush 2023 takes place from 30th November to 1st December. Nestled in the heart of Helsinki's, the event takes place at Messukeskus, Expo and Convention Centre, on street Messuaukio 1.
The Helsinki Lounge is located inside the Slush event venue; however, you do not need a ticket to enter. The venue is wheelchair accessible.
Our program is specifically focused on international investors both VCs and LPs, corporate executives, and growth startups. Additionally, we have an event for HR professionals in Finland interested in attracting international talent to Finland.
That is just a small taste of the many exciting happenings that await you in Helsinki during Slush week. We will be updating the list of events as things come up so keep an eye out for updates.
---
Venture Challenge Ecosystem Day in Helsinki
Date: Tuesday, November 28, 2023 | 13:00 – 16:00
Location: Helsinki Partners office (Kasarmikatu 36A Helsinki 00130)
Organisers: Venture Challenge & Helsinki Partners
Are you an international VC considering expanding your horizons to the Nordics? Or an individual with a passion for finance and a dream of becoming a fund manager in Finland? If so, this event is your gateway to the thriving Finnish venture ecosystem.
Join us as to delve into the dynamic world of Finnish venture capital, connect with some of the key players and uncover the Nordics' hidden gems for emerging fund managers.
This event was designed for the Venture Challenge participants and alumni, so we only have 20 spots available for additional guests, so hurry up!
---
The House of Impact
Date: Wednesday, November 29, 2023 | 11:30 – 20:00
Location: Puistokatu 4 (Wheelchair Accessible)
Organisers: Helsinki Partners, The Impact Office
The Impact Office (TIO), a new breed of single-family offices that aligns purpose and profit, acting as a collective force for change and positive impact, is thrilled to announce its partnership with Helsinki Partners to present the House of Impact (HOI) on November 29th in Helsinki. The event aims to establish a platform for transparent and candid discussions about impact, fostering collaborations that translate into meaningful actions. Inspired by the 'House of X' in Davos the event brings together diverse impact stakeholders, allowing them to connect, learn, and engage in inspirational conversations that lead to tangible actions and measurable results. House of Impact welcomes—ventures, families, investors, funds, corporates, academia, and others—who wish to contribute to a better future. Note that space is limited.
---
Cocktails and Connections
Date: Wednesday, November 29, 2023 | 17:00 – 19:00
Location: Helsinki Partners office, Kasarmikatu 36, 4th floor (Not wheelchair accessible)
Organisers: Helsinki Partners
Connect with other international Slush delegations and key business ecosystem players from Helsinki. Aperitif drinks and captivating discussions await you at the Helsinki Partners office in central Helsinki. The event is fully booked, but if you're interested in attending, please contact sami.haikio@helsinkipartners.com.
---
Funding the Future: Asia-Nordics VC Collaboration and Insights
Date: Thursday, November 30, 2023 | 11:00 – 12:30
Location: Helsinki Lounge
Organisers: Leo Capital & Helsinki Partners
Are you eager to deep dive into the venture capital landscape in the Nordics and explore the available opportunities for international VCs and LPs in the region? Join us to learn why an Indian-based VC with a growing global portfolio is interested in building a bridge between Europe and Asia and their lessons learned from this experience. We will provide invaluable insights into recent VC activities in the Nordics as well as offer great networking opportunities.
---
Y Science – An official side event of Slush for Life Sciences
Date: Thursday, November 30, 2023 | 12:00 – 18:00
Location: Messukeskus, Siipi room 101AB (Wheelchair Accessible)
Organisers: HiLIFE (University of Helsinki), University of Helsinki Innovation Services, Health Capital Helsinki, Finnish Forest Industries, Viikki Food Design Factory, and Aalto University​
Y Science is a gathering for investors, industry professionals, and anyone interested in life sciences. The event aims to unite the innovative scientific community with the dynamic business world, fostering collaboration and inspiring action in the life sciences sector. This year, the event program includes four sessions including: Health & Pharma, Food Systems, Forest & Environment, and​ Science to Business. ​Attendees will gain insights into Helsinki Metropolitan's scientific-based innovations, networking opportunities with top-tier researchers and startups, and inspiration for future endeavours.
---
Japan visiting: Fukuoka x Helsinki – Achieving sustainability and the possibilities in the Japanese market
Date: Thursday, November 30, 2023 | 13:30 – 15:30
Location: Helsinki Lounge (Wheelchair Accessible)
Organisers: Helsinki Partners, Fukuoka Directive Council
Utilising technology for sustainability is essential for realizing a sustainable future. Japan is addressing social challenges by reducing its environmental impact and continuing efforts towards sustainability. In order to achieve further sustainability in the future, cross-national cooperation and innovation is important.
This is an event where Japanese VCs and companies, Fukuoka D.C., a leader in Japan's industry-government-academia think & do tank and Helsinki Partners from the cutting-edge city of Finland, will have a talk on the theme of "Achieving Sustainability."
You will be able to find your great potential in the Japanese market at this event. 
---
Finland As Female Tech Founder Frontrunner
Date: Thursday, November 30th, 2023 | 16:00 – 18:00
Location: Helsinki Lounge (Wheelchair Accessible)
Organisers: Helsinki Partners, Tech Nordic Advocates
Join the premiere of Europe's unique International Accelerator designed for Women-led Tech Companies in Finland. Engage in enriching discussions, network with industry leaders, and discover global expansion opportunities. Jeanette Carlsson, CEO of Tech Nordic Advocates, will unveil the accelerator's vision and participation details. Register now to be part of this transformative tech milestone.
---
Big in Japan
Date: Friday, December 1, 2023 | 9:00 – 11:00
Location: Säde, Messukeskus Siipi Conference Centre
Organisers: Fukuoka Startup Consortium, Japan
Considering Asia as your next target market? Big in Japan is the best event to pitch your company, get tips on breaking into the Japanese market, and make connections with local business experts in Japan.
---
Attracting International Talent with Helsinki's Brand
Date: Friday, December 1, 2023 | 10:00 – 11:30
Location: Helsinki Lounge (Wheelchair Accessible)
Organisers: Helsinki Partners & International House Helsinki
International talent attraction is top of mind for growth companies in Finland. Learn how HR, talent, recruitment, and employer branding teams can use Helsinki's no-cost services to boost performance. You'll get an overview of services offered by Helsinki Partners, International House Helsinki, and the Spouse Program, as well as first-hand experiences from the companies themselves. Followed by casual networking with drinks and snacks.​ Note: This event is only for companies based in the Helsinki area.
---
The Startup Spotlight
Date: Friday, December 1, 2023 | 12:00 – 14:00
Location: Helsinki Lounge (Wheelchair Accessible)
Organisers: Urban Tech Helsinki
The Startup Spotlight, organised by Urban Tech Helsinki, is an annual event that shines a spotlight on Helsinki's most promising startups. Selected startups will showcase their innovations, connect with potential investors and stakeholders, and gain valuable exposure.
The agenda includes startup pitches, a panel discussion on international cooperation, the presentation of Annual Awards, and the launch of the Urban Tech Helsinki challenge 2024.
---
Lead the Change: Choose Europe
Date: Friday, December 1, 2023 | 15:00 – 17:00
Location: Helsinki Lounge (Wheelchair Accessible)
Organisers: Choose Europe network partners including: ADERLY / Invest in Lyon Agency I amsterdam Berlin Partner für Wirtschaft und Technologie GmbH Catalonia Trade & Investment Choose Paris Region Riga Copenhagen Capacity FrankfurtRheinMain GmbH International Marketing of the Region Greater Zurich Area Helsinki Partners Invest Stockholm Oslo Business Region Vienna Business Agency Grow with Warsaw
Panelists: Jan Riepl, Regional Manager, Vienna Business Agency | Rolf Bühler, Director Europe at Greater Zurich Area | Jan berewinkel, Head of Business services, Berlin Partner
Moderator: Johanna Huurre, Director of Strategic Initiatives, Helsinki Partners
European cities are at the forefront of innovation, sustainability, quality of life, and creativity, and present vast R&D opportunities. In this event 14 cities unite to showcase European potential, facilitating smoother expansion for investors and talent. In today's global context, emphasising collaboration and shared values is more crucial than ever.
At this event, cities share their insights, providing networking opportunities with a diverse range of European ecosystem players and companies.
---
Helsinki Partners services
In addition to these flagship events, attendees can also leverage Helsinki's no-cost services. Join us at Slush 2023 and partake in this Helsinki Partners' curated experience — one that blends business insights, networking, and the indomitable spirit of entrepreneurship! Contact us to learn more.
Slush is more than just a two-day gathering. It's a constellation of hundreds of events happening all over Helsinki, and throughout the Slush Week. You can find more official Slush side events on their website.
Looking to network and connect with key players in Helsinki's vibrant ecosystem?
Helsinki Partners is here to help! As your matchmaker, we can introduce you to anyone and everyone you need to meet during your time in the city. Simply send us a message and we'll be in touch to help you make the most of your visit to Helsinki.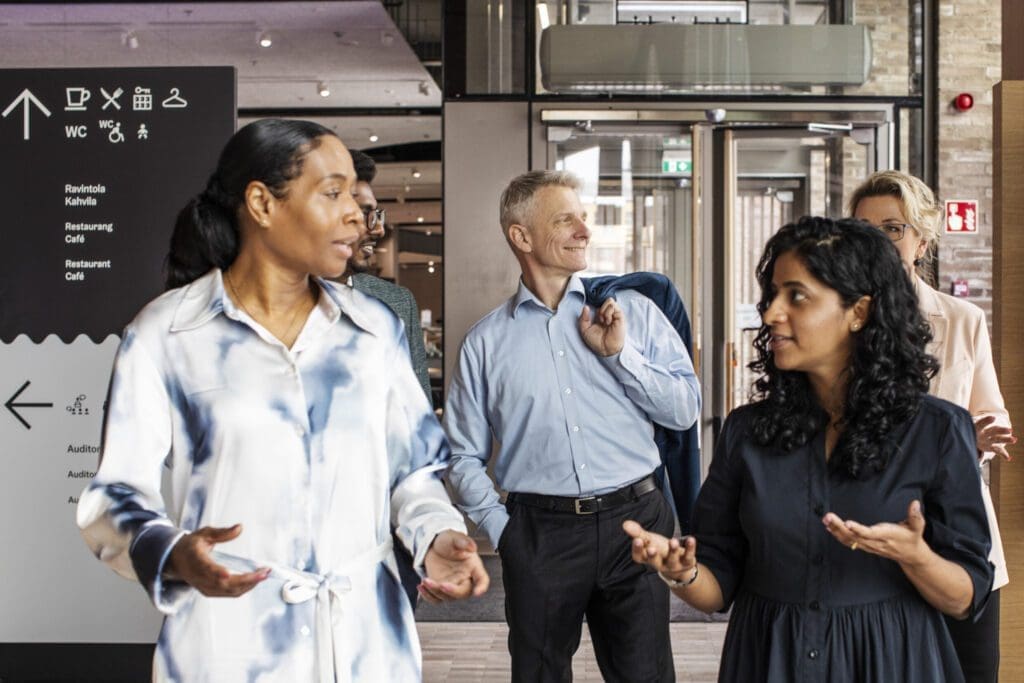 Related articles
Contact Helsinki Partners
If you are interested in learning more about Helsinki and its possibilities – please contact us via the form here. We'll make sure to get back to you within a few working days.